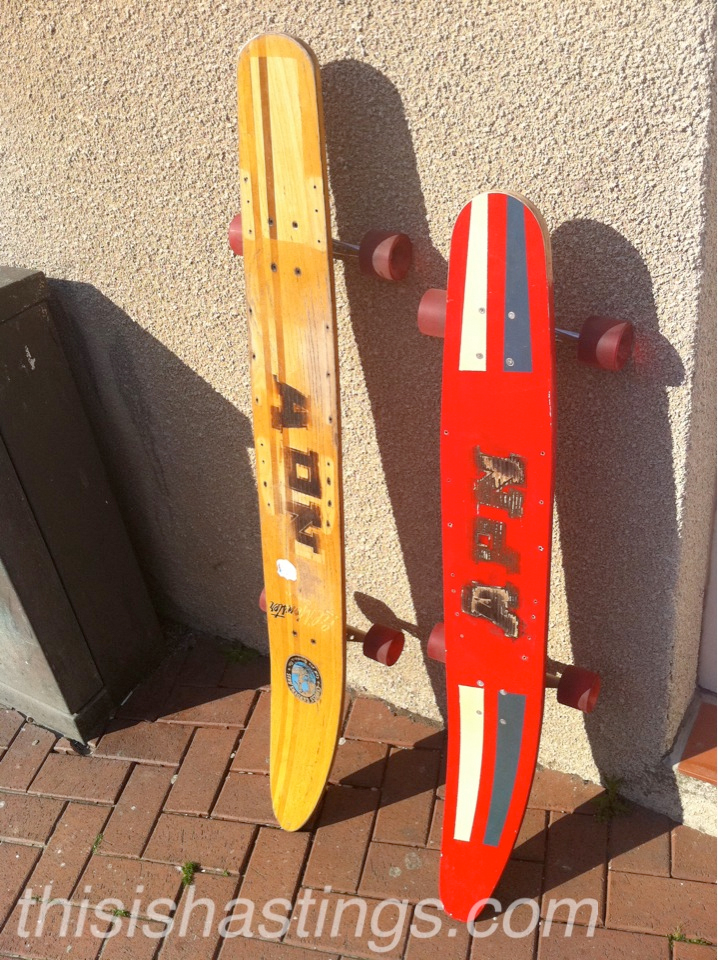 Summer has officially arrived, and This Is Hastings likes to travel in style.
The very nice folks at APN (A Public Nuisance) kindly lent us a couple of their longboards to take for a spin down the seafront.
Based in Hastings and London APN have launched a new line of boards created from reconditioned vintage 1950's water-skis.
Created in the same way as some of the first skateboards (rollerskates attached to waterskis) The boards are one of two (skis) meaning each board is pretty much unique!
This Is Hastings invited our good friend Holly to help us put the boards through their paces …
The first thing you notice about an APN longboard is their size – Holly turned many a head when gracefully carving down the prom, while Mr. Hastings (a touch rusty on a board) turned his ankle.
Offering a smooth, silent and very responsive ride, it was an absolute pleasure to take the boards for a spin. With the wind on your side, one push allows for a massive distance of free-wheeling (Mr. Hastings had time to take a phone call while in transit)
The size of the boards (particularly "Little Monster") make them a little tricky to turn full circle while riding, and the larger trucks mean a slightly wider birth must be allowed when pushing off.
With no grip tape, the boards could get a touch slippy in wetter conditions, but offer the added bonus of not eroding your clothes when carrying them. When carrying them, their size and weight are noticeable, but not enough to be off putting.
Ms. Hastings (who stood on a skateboard just the once, in her misspent youth) was nervous to begin with, but within thirty minutes of practice, was flying down the promenade – certainly keen to give it another go, she may invest in some knee-pads, as a confidence booster.
Having skated short boards when the term Sk8er Boi was vaguely relevant Mr. Hastings was incredibly keen to have a play. The boards, like Mr. Hastings, are bigger and less adventurous, but in a very good way. Offering a smoother, less energy consuming way to travel (and once comfortable offered a large stage on which to show off a few tricks.)
With a background in surf, skate and general awesomeness, Holly clearly had a whale of a time testing out the boards – Carving, crouching and hanging ten (as well as narrowly avoiding jealous dogs!)
So for £60 for the decks, and £150 for a full set up, APN Longboards offer a sleek, stylish and ridiculously fun way to travel this summer.
As well as online, there's a board available in SHOP in St Leonards, and there will undoubtedly be more to follow.
PHOTO GALLERY: